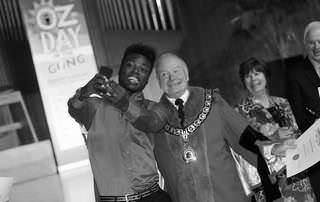 Australian high standard of living and Australian boundless natural beauty is probably the main reason people across the globe are intent in obtaining permanent residency in Australia. Having an opportunity to become a citizen and being allowed to remain in Australia indefinitely may entitle them to the benefits of permanent residency. There are more than a few means to immigrate to Australia. These are being pursued through the means of: 
employment

family

refugee or humanitarian status
Migrants who hold permanent resident visas may become citizens after conforming to the residency requirement. Usually, after a few years living in Australia, they can apply for citizenship.
Permanent residents in Australia have the right to work, public education, to sponsor relatives to immigrate to Australia and the right to travel within Australia or abroad and back if they wish to do so. Australian permanent residency visas are granted for few years, but it does not mean that after a period of time for which visa has been granted, they will have to leave Australia otherwise they may become unlawful non-citizens. After the validity of a permanent residency visa, they can still stay in Australia. The only kind of problem will arise if a permanent resident is willing to travel outside Australia. In such an instance he or she will have to apply for a "resident return visa".
People who hold an Australian permanent resident visa can work in any trade with the exception of the Australian Defense Sector and the Public Services. They are having the same work rights as Australian citizens. 
Education rights for permanent residency Australia visa holders
One of the key benefits for those who hold a permanent residency visa is the eligibility for free primary and secondary study in government schools. In general, permanent resident visa holders have the same rights as regular Australian citizens for education. For those studying in private institutions, the same rates will apply as to permanent, native citizens of Australia when it comes to tuition fees. 
Health and Social Welfare Aids for permanent residency Australia visa holders
Medicare is comprehensive medical coverage that supports all the possible features of healthcare that a permanent visa holder is eligible for. An Australian permanent resident will also be allowed to take advantage of a program of the Department of Human Services run by the government of Australia which is committed to social security payment distribution, it is called Centrelink. However, to be eligible for Centrelink benefits payments, in some instances, permanent residency visa holders would have to wait for a prescribed period of time after being granted with PR visa. Whole families, students, unemployed, retirees, parents, and people with disabilities are covered by the social security benefits t by this department.
Freedom to travel for permanent residency Australia visa holders
Australian permanent residents can travel and tour in and out of the region and the country for the duration of the visa which is usually five years. As mentioned earlier in this article when the visa expires, an individual can still stay in the country but will be unable to return to the country without a Resident Return Visa. 
Sponsoring Relatives for permanent residency Australia visa holders
Individuals with permanent residency visa have a right to sponsor a partner or spouse into the country for a partner visa. They can also sponsor their parents or other relatives for family or skilled visas (conditions apply).
These are just a few of the most important benefits an individual with permanent residency in Australia experiences. Being granted the status of an Australian Permanent Resident is not always easy to accomplish and it could take years sometimes.
Book a consultation with a migration agent if you'd like to discuss your permanent residency options.