26Did you receive IMMI s56 Request for More Information from the Department of Immigration and don't know what to do next?
Please be ensured it's nothing extraordinary. It means case officer has started considering your visa application and there are some documents missing or based on evidence provided there are some concerns and questions raised which need to be addressed. Getting this request is actually not a bad sign because once all the relevant documents will be provided in the right form and will address all the concerns in right manner case officer shall be in a position to grant a visa. Be careful – if you will not provide the requested information within the timeframe (usually 28 or 7 days) case officer may make a visa decision without waiting for documents, and you may imagine what the outcome might be. There are multiple reasons for the visa being refused, you don't want to add another one to the list.
What should you do when asked to provide with additional information
First of all – don't panic. Ther are usually 2 documents attached to an email from a Department of Immigration. The first one about the fact you are being requested to provide additional documents, second with a list of documents required. If you just forgot to attach some documents, upload them to the immi account and click the button documents provided. If the problem is more complex you might need to seek independent advice. We dealt with this kind of request many times on behalf of our clients who lodged applications by themselves and subsequently visas were granted. Should you require assistance do not hesitate to contact us for advice.
What to do to avoid getting section 56 request for documents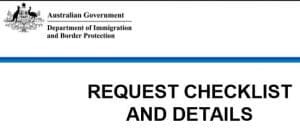 The best way to get a visa granted in the first place is to make an application complete. If the case officer would be able to "tick all the boxes" there would be no need to drag you for additional documents. They don't like asking people for "more information" either, it delays the whole process, so consider their request as a favor and last chance to persuade the Australian Government to grant you a visa.  Keep in mind the department's website is a good start for gathering information about visa requirements, but not all the required information is there. Make yourself a favor and engage a migration agent for your visa case from a beginning. Follow up by migration agent may cost you more than if you'd have engaged an agent from the very beginning.
Extending the time frame for providing documents for Section 56 request
Sometimes there is no way you can organize documents within the required timeframe. It is out of your control. In such a situation communication with case officer is crucial. You may consider asking for an extension of time. Make sure you'll provide a good reason for your request.
The legal ground for S56 section request
SECT 56 of MIGRATION ACT 1958 states:
"Further information may be sought
(1)  In considering an application for a visa, the Minister may, if he or she wants to, get any information that he or she considers relevant but, if the Minister gets such information, the Minister must have regard to that information in making the decision whether to grant or refuse the visa.
(2)  Without limiting subsection (1), the Minister may invite, orally or in writing, the applicant for a visa to give additional information in a specified way."
It does not mean that the minister himself will be looking for information, it could be his delegate – case officer.
How a request for additional information looks like.
The first file refers to details of the visa application and states the fact that more information is required. Gives the time for response and describes the expected form of an answer (email, letter or upload to the immi account).
2nd one is essentially the list of documents requested. Example below:
REQUEST CHECKLIST AND DETAILS
The following information is required to process your application for a XXXXXX TU) Student (subclass 500) visa.
All forms are available at www.border.gov.au/allforms
If you do not provide the information sought within time, or the information is unsatisfactory, your application may be decided based on the available information.
You can attach requested document(s) to your application through ImmiAccount. You will also be able to confirm our receipt of the attachments through ImmiAccount.
Do not email attachments as this will cause delays in the processing of your application. We do not send acknowledgement advices for the receipt of attachments.
This request checklist is for xxxxxxxxxxxx
Date of Birth xxxxxxx
Client ID xxxxxxxxxxx
Application Id xxxxxxxxx
See the attached "Request Detail", which provides a detailed explanation relating to the checklist item(s) listed below.
 – Your curriculum vitae
 – Genuine temporary entrant criterion
The information provided below explains the requirements relating to the checklist item(s) listed above. 
followed by some explanatory notes.