We've been asked a couple of times how to get PR in Australia without IELTS. Here are the possible options: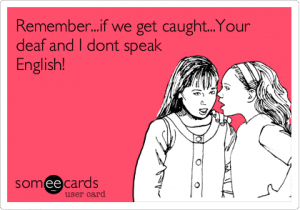 Family stream PR visas do not require an English test at all. If you are in a relationship with an Australian citizen or permanent resident, applying for a partner visa is an option to get away with an IELTS test. You do not have to speak English at all to be granted a partner's visa. Parent visas are another option, although not having grown-up children could make this option impossible.
Apart from IELTS, there are other English tests accepted now by the department of immigration. You can sit PTE, TOEFL or Cambridge instead of IELTS. Some people say PTE is easier than IELTS, however officially both are comparable. In this situation, you would still have to prove your English is on the required level.
Children under 18 who are dependants on a PR visa do not have to sit an English test at all.
If none of the above applies to you there could be another option – if your partner is the main applicant for a skilled visa you do not have to speak English at all. It's gonna cost you a few thousand dollars in an additional fee for a department of immigration, but no English necessary.
Let's discuss your situation – please give us a call to (07) 3668 0658 or contact us and we'll see if anything could be done to get your visa sorted.