Rankings and Invitations for skilled visas explained
How will you be ranked on your EOI?
Your ranking will be calculated based on the information you provide in your EOI.  EOIs are ranked using points achieved on the skilled migration points test.  A prescribed pass mark will be set as the minimum points score required for each visa category.
Ranking will be conducted electronically by SkillSelect with no intervention by the department. Equally scoring EOIs will be separated by time of submission with earlier submission dates ranking more highly.
After submitting your EOI, you can view your point score; however, you will not see your ranking because it will be continually changing.  After each invitation round a department will publish on their website the lowest score of a successful EOI for each occupation group.  This will provide an indication of the score required to receive an invitation.
Don't forget to follow us on facebook if you like it here, so you'll be first to know about updates on this page.
You can update your EOI at any time until you receive an invitation or your EOI expires.  If you provide new information that changes your points score, SkillSelect will update your ranking automatically including your date of submission.
You should understand that if you provide false or misleading information on your EOI this will subject you to the Fraud Public Interest Criterion – PIC 4020.  If it is established that you have provided false or misleading information including to third parties such as approved English language testing providers, assessing authorities, State/Territory governments etc, and your visa application may be refused.  You may also be subject to a three-year bar which may prevent the grant of a further visa that is subject to assessment under the Fraud PIC.
The below diagram displays the SkillSelect process: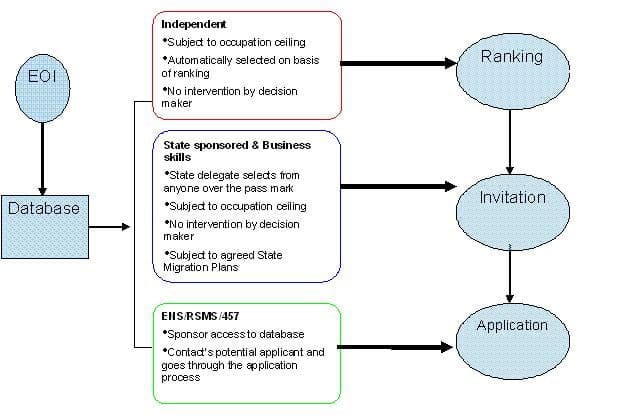 How do you receive an invitation?
Selected EOIs will be invited periodically to lodge an application.  Depending on your visa preference/s, you could receive an invitation from the department for independent migration, family sponsored or from a State or Territory government for State/Territory sponsored or Business Skills migration.  SkillSelect won't issue invitations for any other migration programs.
Independent Migration and Family Sponsored Migration
Invitations will be issued to the highest ranking EOIs in descending order, subject to occupation ceilings.  The date and time of submission may be used to separate those who score equally to ensure that the number of invitations issued at any one time matches both the number of visa places and the processing resources available.  Those who don't meet the pass mark or don't score highly enough in a particular invitation round will not be issued an invitation.  Departmental officers are not involved in the selection process.
Occupation ceilings are a limit on how many people are selected for points tested migration from an occupation group.  This will ensure that these visa categories are not dominated by a narrow range of occupations.  Once the limit is reached for a particular occupation group, no further invitations for that group will be issued in that program year with remaining program places allocated to other occupation groups even if they are lower scoring.  In the event that the ceiling is reached remaining EOIs from people with skills in that occupation group won't be affected.
Occupation ceilings and invitations process diagram: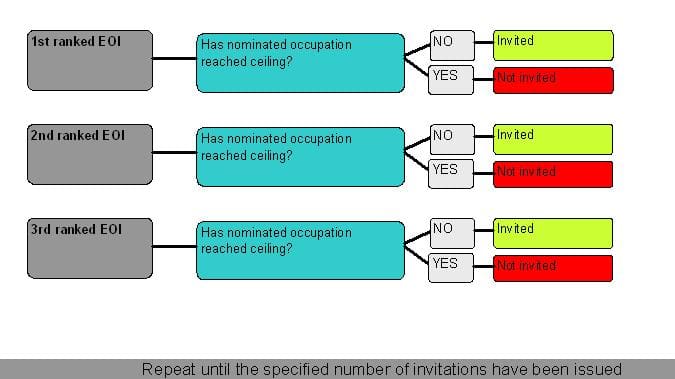 State or territory government sponsored visas
State and Territory government representatives will search SkillSelect for prospective people to sponsor.  State or Territory governments will be able to nominate prospective applicants at any time using SkillSelect (in accordance with their agreed State Migration Plans).  Those nominated will receive an invitation through SkillSelect to apply for a visa.
What happens next?
Invited applicants will have 60 days to lodge a visa application using the department's electronic lodgement system.  The visa application process will occur outside of SkillSelect.
If you receive an invitation in SkillSelect but do not lodge a valid visa application as a result of an invitation, your EOI will be removed from the SkillSelect database and will have to be formally resubmitted to be considered for future invitation rounds.
If you do not receive an invitation, your EOI will remain active in SkillSelect for 2 years.  You will have the option to renew your EOI if it expires.
This information has been first posted on the department's migration blog which has been discontinued.