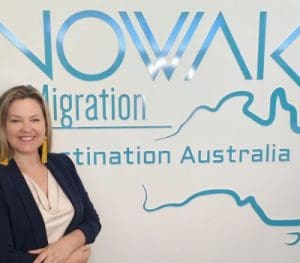 Paulina Nowak is the CEO of Nowak Migration. She is responsible for the SUCCESS of the agency.  She manages:
general oversight of

all Nowak Migration a

ctivities,
ensures the correct practices are being met,
manages the day-to-day operations,
assures a smoothly functioning of the agency.
She also:
drives the culture of the business,
looks to the future for change opportunities and service excellence,
interfaces between the organisation and the Australian migration community.
Paulina always looks at things through the prism of creativity. She can turn anything into something positive and she never looks for simple answers to the questions she gets. Paulina lives her life in constant anticipation of experiencing something new and wonderful. People are Paulina's life passion.
She lives & works for them.
Based on her education and professional work experience she is confident in what she does. Paulina believes her team provides best visa service in Australia.
Thanks to the strong position in the field of Australian Visa Service, she is convinced that Nowak Migration is the leading agency in the Australian market.