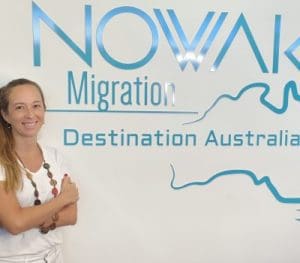 Case Manager
With more than 10 years of experience working in different areas of Social Communication, she has been living, working, and studying in Australia for more than 6 years. At Nowak Migration, Daniele communicates with clients making sure they have a clear understanding of visas processes. She looks after initial enquiries and assist our clients during the whole application once they engage us. Daniele is our expert in communicating with people.
Open-minded and with a positive attitude, Daniele also works on our marketing strategies, planning, executing and measuring our projects.
She has a Bachelor's Degree in Social Communication (Journalism) in Brazil, Diploma of Leadership and Management (Australia), Diploma of Social Media Marketing (Australia) and Advanced Diploma of Communication and Marketing (Australia). She speaks English and Portuguese.
Originally from Rio de Janeiro (Brazil), Daniele loves Noosa-Sunshine Coast, a place where she lives since arrived in Australia, in 2016.