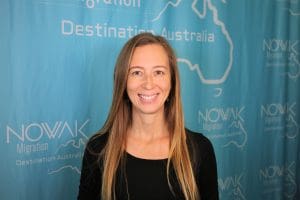 Migration Assistant
With more than 10 years of experience working in different areas of social communication, she has been living, working, and studying in Australia for 4 years. At Nowak Migration, Daniele communicates with clients making sure they have a clear understanding of visas processes. She talks to clients on the phone and looks after online initial enquiries. If you are ready to book your consultation, she can assist you with it. Daniele is our expert in communicating with people.
Open-minded and with a positive attitude, Daniele also works on marketing strategies.
She has a Bachelor's Degree in social communication (Journalism) and speaks English and Portuguese, being able to assist our clients from South America.
Originally from Brazil, Daniele loves Sunshine Coast, a place where she lives since arrived in Australia, in 2016.